I am so excited to be sharing an extra special post with you all today! Kate Brauning is one of my favorite authors, and I am super thrilled to be hosting her today in celebration of the paperback release of her amazing novel, HOW WE FALL! 
I've got all of the details about the paperback release, plus an awesome interview with Kate herself today. But this isn't just any old interview…it's part one of two in an awesome feature. I'm talking to Kate today all about HOW WE FALL, and tomorrow Kate will be stopping by the amazing blog of Kelly deVos (Go here!) to discuss the craft side of things. So, without further ado….here's everything you need to know- plus the interview! 
***
About the book:
Ever since Jackie moved to her uncle's sleepy farming town, she's been flirting way too much–and with her own cousin, Marcus.
Her friendship with him has turned into something she can't control, and he's the reason Jackie lost track of her best friend, Ellie, who left for…no one knows where. Now Ellie has been missing for months, and the police, fearing the worst, are searching for her body. Swamped with guilt and the knowledge that acting on her love for Marcus would tear their families apart, Jackie pushes her cousin away. The plan is to fall out of love, and, just as she hoped he would, Marcus falls for the new girl in town. But something isn't right about this stranger, and Jackie's suspicions about the new girl's secrets only drive the wedge deeper between Jackie and Marcus.
Then Marcus is forced to pay the price for someone else's lies as the mystery around Ellie's disappearance starts to become horribly clear. Jackie has to face terrible choices. Can she leave her first love behind, and can she go on living with the fact that she failed her best friend?
2015 Silver Falchion Best YA Novel finalist- Killer Nashville
Kirkus Reviews: "Debut novelist Brauning tells a touching story of young, star-crossed lovers caught in a drama they have tried hard to avoid…. A sweetly written mix of mystery and romantic turmoil."
School Library Journal: "Heartbreaking and well-paced, this mystery novel challenges readers to look past preconceptions and get to the know characters, rather than focus on an uncomfortable taboo. Brauning's characters are well developed and their story engrossing. An intriguing thriller… this title will raise eyebrows and capture the interest of teens."
ALA Booklist: "…an unusual combination of romance and suspense…There is also something universal about Jackie's struggles with her feelings and her desires, and readers will identify with her emotions, while going along for the plot's ride. This quest for identity, wrapped up in an intriguing mystery, hooks from the beginning."
How We Fall is available through:
***
Interview With Kate Brauning:
Your book takes the term kissing cousins to a whole new level. How did the idea for HOW WE FALL develop? What was it like to write a cousin romance?

I read a lot of classics as a kid, and watched a lot of classic movies. Wuthering Heights (Bronte), Eight Cousins (Alcott), and Mansfield Park (Austen) all deal with cousins and some level of romantic interest, even marriage, and it didn't stand out to me all that much because they were set in the past. But then I read that it's legal in about half the States, and that recent studies show it's actually not a genetic risk to children like I'd always been told. So, it started me thinking about the social taboo of the situation, which was such a fascinating conflict to me. I knew I had a story I wanted to write when I thought about teenagers trying to handle it, especially when they wouldn't have a system of support and advice because of their situation. Plus, being cousins is a conflict that can't really be solved. And yes, writing it was a bit different from writing another kind of romance—I had to address some ethical questions, challenge my characters in different ways with permanent consequences, and throw a heck of a decision at them. But to me, what I love so much about it is that it's essentially an extreme best friends romance.

How did you balance the elements of mystery and romance in the book?

The beginning of the story raises questions about the mystery, since it's an absence and a guilt Jackie is dealing with. But the thriller element becomes a catalyst for Jackie, forcing her to deal with her hesitation and fear in a life-changing way. So it's a thread through the entire story, but builds as Jackie's struggle builds.

A number of readers seem to feel that they didn't get enough of Will. Any plans for more books in this world? Will readers get more of Will?

Readers loving Will, I have to say, has been one of the best parts of having this book hit shelves. In fact, the number of reviews that mentioned wanting more Will made me start thinking he really did deserve his own book. I've actually been hard at work on it this past year!

HOW WE FALL makes great use of romantic and sexual tension. Any advice for writers wanting to maximize tension?

I think my best advice would be to genuinely step into your characters' shoes. Romance, I find, is almost never the only thing teens (or adults) care about. We bring values, family, friends, quirks, tiredness, wishes, bad attitudes, and all kinds of baggage into every relationship we have. And it affects every part of that relationship. We hit limits. We have expectations. We react because of conscious and subconscious triggers. Digging into what each person is bringing into the romance, particularly physical scenes, is one of the ways I love to raise the stakes and layer in emotional need. Need and desire are so closely linked that I find a lot of payoff there.

We don't want to get into any spoilers, but the ending of the book was unexpected, especially in the way that the Jackie/Mason romance was resolved. Was this the original ending?

I actually didn't know how I was going to end the book until I was halfway through it. I didn't know my characters well enough when I started drafting it to know what they could handle, and what they would end up valuing long-term. I really needed to dig into what kind of relationship they had to see for myself.

What's up next for you as a writer?

Well, I've got a few things in the works—some done, and some somewhere still in the process. One is a romance, one is a thriller romance, and one is a straight-up thriller. I'll be horrible and let you guess which one is Will's story.
To see part two of Kate's amazing interview, be sure to visit the blog of Kelly de Vos tomorrow! Kate will be talking all about craft- you don't want to miss it!
***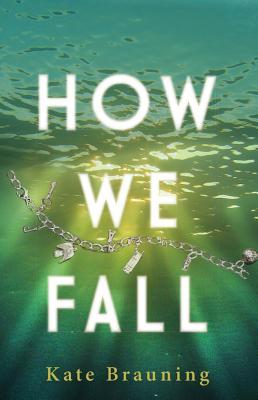 Author Bio:
Kate Brauning grew up in rural Missouri and fell in love with young adult books in college. She now works in publishing and pursues her lifelong dream of telling stories she'd want to read. This is her first novel. Visit her online at www.katebrauning.com or on Twitter at @KateBrauning.